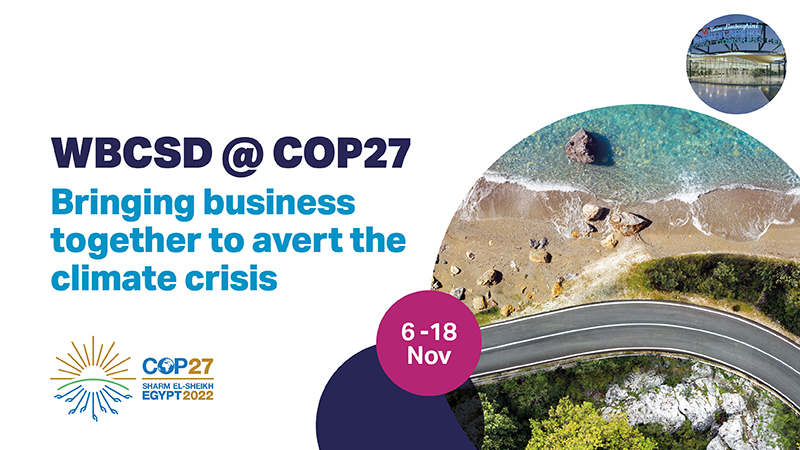 Registration for COP27 Blue Zone passes 
As a registered observer of the UNFCCC and as the industry thematic focal point for the Marrakech Partnership for Global Climate Action, WBCSD will receive a limited allocation of Blue Zone badges for COP27 to allocate to member companies. Each pass is valid for one week (week one or two) and is non-transferable within this week.
WBCSD will keep members informed about the registration process and provide our next update regarding the allocation of passes in September. ​ Please note: WBCSD cannot currently guarantee Blue Zone passes to member companies and we continue to encourage members to explore alternative avenues to access Blue Zone passes.
Venue information from the official COP27 website
The venue for COP27 is the Sharm el-Sheikh International Convention Centre (SHICC) in Egypt, one of the largest and most innovative conference centers in the Middle East and Africa.
The conference complex has a variety of flexible conference and exhibition halls that will form the Blue Zone for COP27.
With growing interest from all stakeholders to take part in the COP's activities, and with a strong desire from Egypt to allow for an inclusive COP and provide the space needed for different stakeholders, a COP27 Green Zone will be within walking distance, across the road from the Blue Zone. The Green Zone is open and accessible to the wider public to visit and promotes dialogue, awareness, education, and commitments via events, exhibitions, workshops, cultural performances, and talks.
For detailed information, please refer to the official information available on the COP27 website of the Government of Egypt Presidency.
Visas, accommodation and transportation
COP27 attendees must take the necessary steps to apply for their entry visa to Egypt as soon as possible with their nearest Egyptian consulate. This will ensure their application is processed in time for their trip.
All delegates are also advised to book their accommodation as soon as possible. In terms of travel, Cairo International Airport and Sharm El-Sheikh International Airport offer a multitude of direct flights and a flexible schedule to guarantee a smooth journey to attend COP27.
To book your stay in Sharm El-Sheikh and for more information on visa, accommodation and housing, please refer to the official trip planning information available on the COP27 website of the Government of Egypt Presidency.